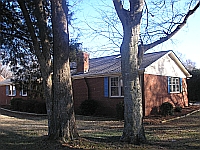 We restored a 3100 sf burned duplex. One half burned with some structural damage and smoke and water damage through out. We removed all finishes to the framing and subfloor. We replaced all finishes, cabinetry, doors, and windows. We also replaced all plumbing above the floor, all HVAC, and all electrical. We added many upgrades including better base, chair rail and crown, hardwood floors, better cabinets and solid surface tops. We replaced sections of the roof, ceiling, and wall framing. We replaced all insulation, and replaced the shingles on the entire duplex. We also upgraded the kitchen and repainted in the side that had been smoke damaged. We lowered a dining room floor in each side and removed a wall separating the kitchen from the dining. This allowed a more open look. We finished the project with some upgrades in the landscaping.
Project:       Jeter Duplex Restoration
                   Jeter Realty of NC
Address     1725 Runnymede Lane
                  2501 Lacie Lane
                  Charlotte, NC 28211
Architect:   C.L. Helt Architect, Inc.