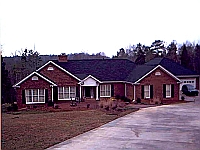 This was our largest residential project to date. This was a 5000 sf new house that was 85% finished when the Shealys bought it at auction from the bank. The former contractor working for the former owner had made many serious mistakes and had ignored many demands from building code officials to correct problems.
We worked with building code officials and engineers to make the corrections necessary. We added a study to the front of the house along with a new entry. We remodeled areas of the main level. We corrected, framed, and completed the unfinished basement. We added a 2000 sf free standing garage with a kitchenette and dressing room. We added a 200 lf concrete driveway and coordinated work for the owners grading, electrical, pool, and landscaping subcontractors.
 Project:      Shealy Residence Additions and Renovations
                   Dr. Keith and Laura Shealy
Address:     468 Martha's Vineyard
                   Fort Mill, SC 29715
Architect:   Laughing Dog Studios
Engineer:   Verna Engineering
Designer:   M Pete, Inc.