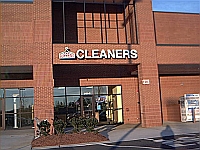 Mr. Majithia had a problem. He was being forced out of his old space in three weeks.   I presented him with a schedule that would have him in his space in a little over three weeks. Our competitor would have taken much longer. Mr. Maithia chose us. I posted the schedule on the window of his space. We finished exactly when I told him that would. He was very happy.
Project:       Supreme Cleaners
Address:     6426C Sugar Creek Road
Charlotte, NC 28269
Architect:    C.L. Helt Architect, Inc.