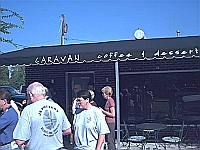 This project started with a small, run-down block building.We removed someone else's attempted start at renovation. We constructed new walls for kitchen and restrooms for the coffee shop. We provided plumbing, electrical, and HVAC as well as all necessary drawings for the project. The owner provided his own finishes. The transformation was amazing!
Project:       Caravan Coffee
Address:     7 South Main Street
                   Belmont, NC 28012
Engineer:    Verna Engineering
Designer:    Caskey Construction Company, Inc.