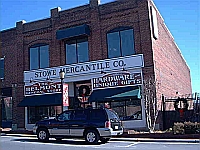 The Stowe Mercantile Building was built about the turn of the 20th century to house a general store. The purpose of our renovation was to recreate the general store. The new store name is Belmont General Store. We removed the modern store displays, walls, and floor finishes. We repainted, added VCT flooring, modified the restrooms, added storefront displays, and revised electrical. We also added a new side entrance through the 17" thick brick wall. The new store is a "must see" in Belmont.
Project: Stowe Mercantile
Address: 6 North Main Street
Belmont, NC 28012
Drawings: Caskey Construction Company, Inc.