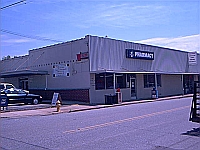 In this project, we subdivided an existing pharmacy in a building built in the 1920s. The new tenants included Belmont's Pharmacy, The Catawba Grill, and a future tenant space. The project involved tenant separation walls, separation of existing electrical, HVAC, and plumbing, (4) new restrooms, and a new entrance to the building. There was extensive demolition including a growing replacement of the floor system because of termite damage to the original floor. We also contracted asbestos remediation of the existing flooring. The project was completed on schedule in approximately 30 days.
Project: Catawba Pharmacy
Address: 403 and 409 Catawba Street
Belmont, NC 28012
Drawings: Caskey Construction Company, Inc.